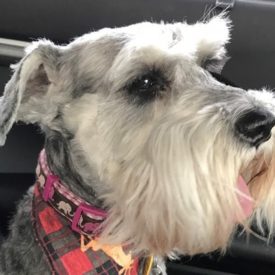 Polly 1748
Adoptable
Small
Spayed/Neutered
Up-to-date with routine shots
housetrained
DOG BIOGRAPHY: Polly is a sweet, adorable fur-baby! She's mother to Dolly, another adoptable schnauzer; however MSRNT has determined that these two are able to be re-homed separately. Polly is a senior schnauzer, who currently weighs 21 pounds. This healthy and well-mannered ball of joy loves to play with her toys and is also a lap warmer who loves to be cuddled. She will be devoted to her family, and would most likely thrive as an only pet. Polly would love nothing better than to spend her days going on walks, playing, and snuggling in her human's bed at the end of the day.
Opt to Adopt! and give me a chance to love you! Copy/paste this link to your browser to fill out an application for this schnauzer: : https://msrnt.com/how-to-adopt/adoptables/adoption-application/
Our Tax Deductible Adoption Donation is $300 for each dog. MSRNT invests on average $1,020 per dog on medical, microchip and incidental care.
When you "Opt to Adopt" your ADOPTION PACKAGE INCLUDES:
-Neuter/Spay
-Veterinary General Wellness Exam
-Vaccinations: Rabies, DHPP, Bordetella
-Heartworm Test, Treatment if necessary, PLUS a 6 month supply of Heart Worm Preventative
-Fecal Test and De-worming
-Teeth Cleaning if needed
-Grooming, New Lupine Brand Collar
-Microchip Placement and Tag
-Registration of your Microchip with 24PetWatch.
If you are interested in volunteering or being a foster, copy/paste this link to our website into your browser: : https://msrnt.com/fostering-volunteering/volunteer-application/
MSRNT always appreciates any monetary help you can give from a $1 to a Bazillion our dogs say – Bless your Heart – from all our happy tails!