Donations are essential to our work
Without YOUR support and generous donations, MSRNT could not do its great work.  Our $300 adoption fee covers less than half of our average expense per dog to deliver great veterinary care and ensure that our dogs are in the best possible health when they go to their forever homes.
On average we spend more than $965 per dog–and those costs can quickly climb to several thousand dollars per dog for those needing surgery or more advanced therapy and care.
Donate via PayPal
We accept monthly recurring and one-time donations. Choose your option on PayPal. (NOTE: You do not need a PayPal account to checkout)
Ways To Give
Via PayPal (link above)
By Mail
Employer Matching (ask your HR department)
Friends & Family (instead of a gift, ask for donation)
Donate by Mail
Your gift will be acknowledged with a receipt from MSRNT, suitable for tax purposes. Use the PayPal link at the top of this page to make online donations, or checks can be mailed to:
MSRNT
P.O. Box 112341
Carrollton, TX 75011
206-333- 0156
All Donations are Tax Deductible
ALL DONATIONS (including adoption fees) are tax deductible for the donor due to our 501(c)(3) non-profit status (Tax # 20-573-6630)
EVERY SINGLE DOLLAR goes directly to the care of the dogs. We are an all-volunteer group, with no salaries or overhead expenses. Since our formation in 2006, MSRNT has rescued and found loving forever homes for more than 1,700 MINIATURE SCHNAUZERS. YOUR donations can help keep that number rising.
Where Does Your Money Go?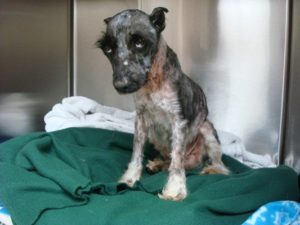 Your generosity allows us to say 'yes' when we receive a call about a sick Schnauzer in need who requires surgery or more advanced medical care.  It allows us to say 'yes' when a city shelter asks if we can accept a sick or heartworm positive dog that would otherwise be put down at the shelter.  It allows us to care for and rehabilitate these and other dogs who have no one to love or care for them, turning them into healthy, happy pets that will bring great joy to a forever family.
Consider the case of a Schnauzer we named 'Desperado,' who was left on a cold January night in  2013 in a bucket, covered with a t-shirt, and left by the dumpster outside of a vet's office. A worker discovered the animal, who was very near death and showed signs of physical abuse, like lacerations and burn marks.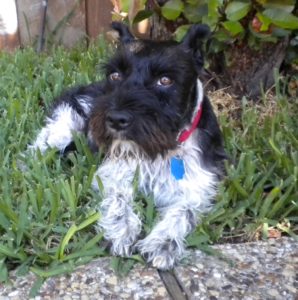 While the vet worked to save him, the office called MSRNT to see if we could take him in and pay for his care—if he survived.  MSRNT said yes, and funded the surgeries and rehabilitation necessary to save his life.  2 months later, sweet Desperado had the happy ending he so deserved, becoming a cherished pet in a loving family.