Donations are essential to our work
Without YOUR support and generous donations, MSRNT could not do its great work.  Our $300 adoption fee covers less than half of our average expense per dog to deliver great veterinary care and ensure that our dogs are in the best possible health when they go to their forever homes.
On average we spend more than $1,020 per dog–and those costs can quickly climb to several thousand dollars per dog for those needing surgery or more advanced therapy and care.
We accept monthly recurring and one-time donations. Choose your option on PayPal:
(NOTE: You do not need a PayPal account to checkout)
Ways to Give
Via PayPal (link above)
By Mail
Amazon Shopping
Grocery Shopping
Volunteering
Employer Matching
Friends & Family
Donate by Mail
Your gift will be acknowledged with a receipt from MSRNT, suitable for tax purposes.
Use the PayPal link at the top of this page to make online donations, or checks can be mailed to:
MSRNT
P.O. Box 112341
Carrollton, TX 75011
206-333- 0156
Other ways to support MSRNT:
Matching Donations: Many employers provide a matching donation for employees who donate money to certified non-profit organizations. Check with your company's HR department to see if your donation can be matched by your company.
Amazon Shopping: When you shop with Amazon, sign in to smile.amazon.com, select MSRNT as your Charitable Organization and Amazon will donate 0.5% of the price of eligible purchases. Visit Amazon for more details.
Grocery Store Shopping: Sign up at your local grocery store to designate Miniature Schnauzer Rescue of North Texas as your charity of choice in the store's giving program. Tom Thumb and Kroger Community Awards programs donate a small portion of what you spend to the charitable organization you designate.   You must sign up annually at the Customer Service Counter to participate.  Pennies add up to dollars, and MSRNT welcomes these gifts (See Links page)
Friends/Family: Have everything you really need? Ask your friends to donate to MSRNT the amount they would otherwise spend on a birthday or holiday gift for you.
Remember that MSRNT plans to still be here after you have moved on to your heavenly reward. Be sure to check out Planned Giving Opportunities for remembering MSRNT and its work with your Estate Planner or Financial Advisor.
Volunteer: Consider being an MSRNT volunteer or foster parent. We are an all-volunteer organization and always need the help of volunteers committed to our cause.
What are three of the best things about donating to MSRNT?
ALL DONATIONS (including adoption fees) are tax deductible for the donor due to our 501(c)(3) non-profit status (Tax # 20-573-6630)
EVERY SINGLE DOLLAR goes directly to the care of the dogs. We are an all-volunteer group, with no salaries or overhead expenses.
Since our formation in 2006, MSRNT has rescued and found loving forever homes for more than 1,700 MINIATURE SCHNAUZERS. YOUR donations can help keep that number rising.
Where does your money go?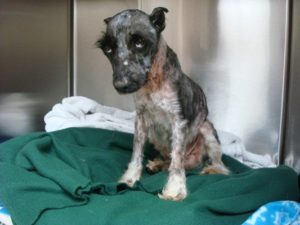 Your generosity allows us to say 'yes' when we receive a call about a sick Schnauzer in need who requires surgery or more advanced medical care.  It allows us to say 'yes' when a city shelter asks if we can accept a sick or heartworm positive dog that would otherwise be put down at the shelter.  It allows us to care for and rehabilitate these and other dogs who have no one to love or care for them, turning them into healthy, happy pets that will bring great joy to a forever family.
Consider the case of a Schnauzer we named 'Desperado,' who was left on a cold January night in  2013 in a bucket, covered with a t-shirt, and left by the dumpster outside of a vet's office. A worker discovered the animal, who was very near death and showed signs of physical abuse, like lacerations and burn marks.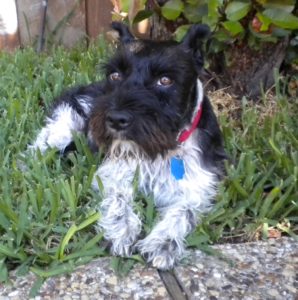 While the vet worked to save him, the office called MSRNT to see if we could take him in and pay for his care—if he survived.  MSRNT said yes, and funded the surgeries and rehabilitation necessary to save his life.  2 months later, sweet Desperado had the happy ending he so deserved, becoming a cherished pet in a loving family.
MSRNT Donations Honor Roll (over $ 1,000)
MSRNT would like to thank and honor its friends and adopters who have supported our rescue efforts over the year with generous financial contributions. Click link for full list of donators.
Donations Honor Roll June 2018
Alyssa Fiedelman
Brandon Hillhouse
Brenda Hudson
Candice Fidler
Carole Smith
Carolyn Haenchen
Cheri Anderson
Dana Healy
Dixie Andres
Edward Callison
Emily Hartwig
Event Cash
Hale Pet Door National LLC
Jana McCoy
Jan Johannes
Jose Vazquez
Justin Winfree
Karen Hryhorchuk
Mary Massel
Melanie Machado
Melissa Robertson
Randall Pearson
Robert Bellah
Robin Couch
Sandra Plumley
Scott Morris
Stephen Lopez
Tami Fuller
Tanya Smith
Terry Edelmon
Your Cause Corporate Giving
Victoria McBride
Wynne Voorhees
Donations Honor Roll July 2018
Bruce Thompson
Carole Smith
Cheryl Gray
Chris Granger
Dana Healy
Dixie Andres
Dewey Slape
Edna Allbaugh
Facebook Payments Inc
Gary Dyer
Gregg Pittelkow
Jason Weber
Karen Hryhorchuk
Larry Enoch
Lil Wang
Lynn Lawrence
Neighbor to Neighbor
RobinCouch
Sandra Plumley
Scott Morris
Sheri Stettner
Stephen Lopez
Tami Fuller
Tanya Smith
Terrence Peters
Thomas Glasson
Victoria McBride
Wynne Voorhees
July 31.2018
| Donations Honor Roll August 31,2018 | |
| --- | --- |
| Amy McKinzie | |
| Ann Hudgins | |
| Barbara Frantkowski | |
| Barbara Seale | |
| Carole Smith | |
| Cheryl Gray | |
| Cynthia Ousey | |
| Dana Healy | |
| Dewey Slape | |
| Facebook Payments Inc | |
| Gerry Veeder | |
| BBBlooms, INC | |
| Joe and Eda Gensor | |
| Karen Hryhorchuk | |
| Mary Lou Johnson | |
| Petsmart Charities Petsmart Charities | |
| Robin Couch | |
| Rosemary Wood | |
| Sandra Plumley | |
| Scott Morris | |
| Stephen Lopez | |
| Sue May | |
| Susan Cooper | |
| Tami Fuller | |
| Tanya Smith | |
| The Benevity Community Impact Fund | |
| Victoria McBride | |
| William Grimes | |
| Wynne Voorhees | |
| YourCause Corporate Giving | |
| | |
Donations Honor Roll September 30, 2018
April Prichard
Billy James
Brian Baker
Carole Smith
Carole Ann Doyle
Cynthia Ousey
Dana Healy
Deborah Kirchdorfer
Dena Kohleriter
Denice Autrey
Dewey Slape
Donna Eggar
Elizabeth Kelley
Event Donations
Gregory Bier
James Harris
Jane L. Gardner
Jeffrey Pakula
John Allison
Joseph Robertson
Karen Hryhorchuk
Karen Watson
Kathy Cooper
Kevin Strause
Kimberly Butler
Kimberly Hunter
Mark Klapper
Mary Jack Wintle
Melanie Machado
Network for Good
Richard Knox
Robert Palleschi
Robin Couch
Ronald Smith
Sandra Plumley
Scott Morris
Shannon Thompson
Sharon Whitrock
Stephen Lopez
Tami Fuller
Tanya Smith
Victoria McBride
Wesley Pake
Wynne Voorhees
Wyvonna Hinkle