Just because there are no dogs (or maybe only one or two dogs) featured here, it does not mean that there are no dogs in our program. For whatever reason, since Covid the number of dogs in our program has decreased—but we still have dogs!
At the same time, the demand for dogs has increased. Every dog photo we have posted here brings in dozens of new applications, bogging down our volunteers in processing the applications, creating a larger pool of approved adopters for a smaller pool of dogs, and frustrating people who have been waiting to adopt. That's why not all available dog photos are posted as they were in the past.
Initially because of Covid, and now because there are fewer dogs in our program, we are not having face-to-face adoption events at PetSmart and Petco stores. We're working behind-the-scenes to match dogs with the right prospective adopters, using the information that is provided in our applications (see details on our home page for more information).
As always, our goal at MSRNT is to find the perfect forever home for each dog.
Because we have quite a few approved adopters waiting to adopt, at this time we are only working with experienced dog owners, and not accepting applications from families who have not had a dog before.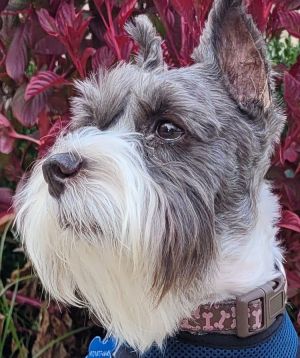 DOG BIOGRAPHY: Let me introduce myself! I'm Bruno, a 9 year old Mini Schnauzer weighing in at 18 pounds. I may be entering the Fall of my life, but you wouldn't know it with my high energy level. I love to play with toys…maybe a little too brutal at times especially if I think it is a squirrel or bunny. Just want to show them that Bruno is in charge! I love to go on walks and will walk nicely beside you except if I see a squirrel. I really want to chase that dude! After expending all that energy, I love to cuddle. Yes, I am really quite lovable despite my name. I am a bit of a beggar for food, but a quirky thing about me is I love to eat ice! It's the best treat! I sleep through the night and I am also crate trained. But I have some of separation anxiety if you leave me in the crate too long. I tend to "sing" a bit for attention. However, because of my high energy, you probably shouldn't leave me out in the home unattended. I tend to get a little too excited. My forever family needs to be at home most of the day. I would probably do best if there were some kids and maybe another doggie BFF to play with. Does this sound like you? I sure hope so. You would make me the happiest pup and we could have so much fun together!
Adult, Male, Small