Just because there are no dogs (or maybe only one or two dogs) featured here, it does not mean that there are no dogs in our program.  While there are fewer than normal dogs in our program since Covid, we do have dogs. 
However, the demand for dogs has increased dramatically in the past year.  Every dog photo we have posted here brings in dozens of new applications, bogging down our volunteers in processing the applications, creating a larger pool of approved adopters for a smaller pool of dogs, and frustrating people who have been waiting to adopt.  That's why the photos are not posted as they have been in the past.
We are still not holding traditional face-to-face adoption events at Petsmart and PetCo stores.  We're working behind-the-scenes to match dogs with prospective adopters, using the information that is provided in our applications (see details on our home page for more information). 
As always, our goal at MSRNT is to find the perfect forever home for each dog.  At the same time, operating in a time of Covid means that the safety and well-being of our volunteers who foster our dogs and support our rescue and adoption efforts behind-the-scenes is also critical. 
Note:  Because we have quite a few approved adopters waiting to adopt, at this time we are only working with experienced dog owners, and not accepting applications from families who have not had a dog before.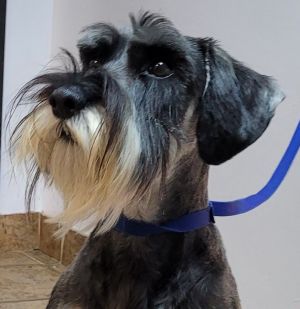 My name is Lady and as my name implies, I am a genteel kind of girl. I'm 3 years old and weigh 32 lbs. Yes, my weight is at the high end of Mini Schnauzers, but as you can see from my photo, I am quite regal. Don't you love those gorgeous eyebrows! I like to spend my days lounging around in the mornings (as all ladies do). By the afternoon I am ready for walk and a game of fetch. I really love to play, and I do need a home with another young dog who also enjoys lots and lots of play time. My enthusiasm for play may not be appreciated by older dogs. I am not much of a talker, but I really enjoy meeting new people and other dogs…I'm a rather social young lady! I'm not really much of a lap dog. I prefer just to snuggle next to you. Just another one of my regal traits. I am also house trained, crate trained and sleep through the night. All in all, I am a great, playful little Lady. This Lady is ready to meet my new family. I prefer a more active and social family that's willing to play with me and help me learn new experiences. I know I can be the perfect pup for you!
Adult, Female, Medium