If you have a Happy tail story you'd like to share with us, head over to our Contact Us page.
Troy (now Jack)
Adopted 09/2017
It's been a little over a year since this little guy joined our family.  Jack (formerly Troy) has brought a lot of love and laughter to our home. He is the sweetest, funniest, most loving little man.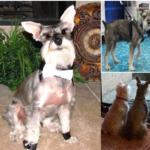 He loves his older sister, Lilly, and is perfectly content letting her be boss. He loves to take walks, play with Lilly, snuggle, watch TV and Oh Yes, chase squirrels! Jack has grown into a most handsome little man, and Lilly and I are so grateful to his foster mom, Carole Doyle, for taking great care of him while he waited for his fur-ever home! A big thank you to MSRNT for all you do!
Angela, Jack & Lilly Bastari
---
Russell
Adopted 07/2016
Russell is a very good boy.  He's the most consistent dog to ever own me.  He's such a love bug and follows us everywhere.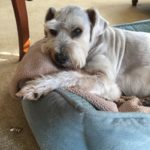 Our youngest just went to college so we think he is missing her.   He's definitely missing the trips to the barn she used to take him on.  Thinking about maybe getting him a friend and expanding our pack.   Just a thought at this stage.
Thank you for all you do!  It's a wonderful organization that we are proud to be associated with.
Tabitha
---
Hugo (now EddieBear)
Adopted 01/2018
EddieBear (aka Hugo) is the most wonderful dog ever.  He has captured our hearts!  Still a lovable brat but gets along famously with our other dogs Sara and Charlie.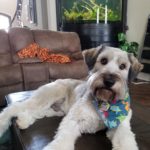 He has learned many commands and does respond to them (when he feels like it …he acts so bossy). LOL.  He has the most personality of any dog I have ever met.  I can't describe the joy he has brought to our entire family.
We can't thank you enough for choosing us to be his forever family.  Don't know what we would do without him!  We love him!!!!!!!!
PS He loves to swim!!!!
Barb
---
Scotty
Adopted 09/2018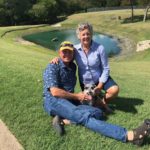 Two weeks ago we went to meet Scotty and knew he was meant to be our dog.  Little did we know how perfectly he would fit with each of us in our home!  We wanted a schnauzer because of their intelligence and "in-tune-ness" coupled with a non-shedding presence, but it is safe to say that Scotty has stolen our hearts.  He embraces every new experience with joy and confidence.  From our walks, to boating, to riding the UTV Gator, to playing rough and tough with Dad, we are so grateful he is ours.
Thank you, MSRNT and Tami, for providing the safe and loving home that gave him the confidence that he would be loved forever!
Jack and Dona Eggar
---
Daisy
Adopted 09/2017
Just Monday, this Labor Day, we celebrated a wonderful first year with Daisy (ID A35943062).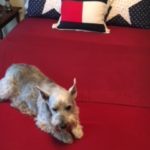 Sheryl, Daisy's foster mom, was right on all accounts.  She loves to eat, is definitely a talker and
loves her time snuggling in the bed.  We are so blessed to have found her.  She still has some
health issues, but is now a much healthier little girl.  She is a great addition to our canine family.
Peggy Chappell
---
Greta & Koby
Adopted 2008 & 2016
Our Schnauzer family is doing really well. About 4 years ago, Greta had to have gall bladder surgery. Her liver counts were so high that they couldn't be charted, and the doctor said she didn't know how she could be walking and breathing.  Very sick!   The surgery for Greta was successful.  Her liver counts are higher than normal and her liver has some damage that will not completely heal, but it has been 10 years since we adopted her which would make for about age 12 and she is doing well.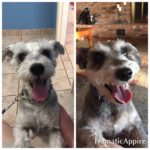 Koby has really come out of his shell.  My baby that rarely barked, but was always happy, now talks.  Not just occasionally but all time!  As long as the sun is shining, he wants to be in his back yard running and chasing squirrels from tree to tree.  He talks to the squirrels as well.  He is still a mamma's baby, but he and his dad love playing hide and seek around the kitchen island.  Needless to say, he is a joy and I don't know what our life would look like without him!
We are very blessed to have our rescue fur babies!
Terri & Patrick Fallwell
---
Bella & Buster
Adopted 10/2017
Hello MSRNT,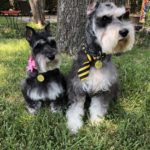 Bob and I want to give you an update on Bella & Buster.  They are the best dogs ever!  They love chasing squirrels in our backyard and sitting in our laps.  Bella has chosen Bob's lap, and Buster has chosen mine. We have bought a truck and a travel trailer so that the pups can travel with us.  We're having a great time together exploring forests and trails.
Thank you again for allowing us to adopt these wonderful dogs.
Bob and Martha
---
Rachael & Ray (now Lucy and Ricky)
Adopted 07/2018
I figured I would update you on Ricky and Lucy after their first vet appointment today.  I really have bonded with Ricky and my brother with Lucy.  They love our family, and we love them.  You can see how comfy they are!
---
Romeo
Adopted 12/2015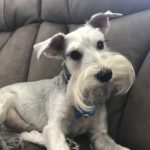 Romeo is doing very well and continues to come out of his shell more and more every day. You wouldn't believe how much he has changed since we first brought him home. We're amazed as he no longer runs when visitors come to the house; in fact, he will walk right up to a person to check them out. He continues to be a morning dog and still loves to "talk" to us when we come home from work. Walking across hard surfaces doesn't seem to bother him that much anymore either, but he prefers the carpet (and our couch). He still does struggle with walking through tight spaces, but he's becoming more used to it. We also notice him playing with our female Schnauzer, Lily, when he doesn't think anyone is looking. Romeo, Lily, and our oldest Schnauzer, Duke, all remain close packmates. We love Romeo so very much and we're so glad we were able to make him an addition to our family.
Regards,
Brian Hill
---
Molly
Adopted 06/2017
Just a fun fact for you … we had Molly's DNA analyzed, just for grins … and the report came back that she is indeed 100% miniature schnauzer – in case there was any question!  She is one happy girl, and she is the delight of our family.  Our old fella Smokey is hanging in there too, and he will turn 15 next month!  He and Molly are thick as thieves, but she is a huge momma's girl – times two since she has two mommies!
One of these days, we may be ready for another addition from MSRNT!!!
Caron
---
Maggie
Adopted 6/24/2017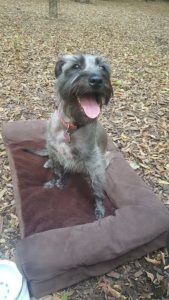 Sweet Maggie Mae is now 18 months old.  She is at the dog park in Arlington with her bed.  You know it's been darn hot outside and a girl has to have her own water bowl, a soft bed that's cooler & shady to rest in between play time.  She is still hard-headed, but very loved.
Deann Harpe
---
Hope
Adopted 05/22/2018
Some of you have been following the story of Hope.  Enduring unspeakable brutality at the hand of her owner and dumped on the road, Hope, who was picked up by a local shelter, was missing her two back legs below her knees.
After entering MSRNT, Hope opened up into a beautiful, sweet girl full of fun and life in her loving foster home.  MSRNT helped Hope get fitted for a new wheelchair to improve her mobility.  All that was needed was a new home to call her own.  We are happy to announce that Hope has found her new forever home with a canine sister who is also a MSRNT alumna.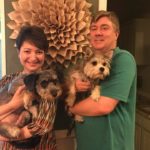 On May 30th, her foster mom, Karen, wrote:
"One week ago today, a VERY special girl named Hope was adopted by a wonderful family that will give her a life of love and great care.  Thank you Jerry and Patti Pierce Burns and Hope's new sister, Squirrel, for giving her your hearts and opening your home.  In spite of Hope's physical challenges, she has come so far, has the most beautiful spirit, and has eyes that melt your heart.  Thanks to Miniature Schnauzer Rescue of North Texas and the Burns family, she has the best future imaginable."
---
Clarence (now Charlie)
Adopted 02/07/2013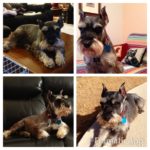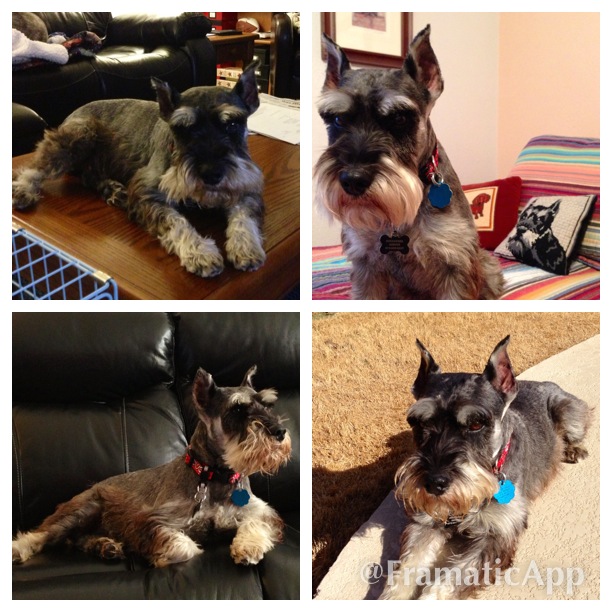 Wanted you to know we are still around and my Charlie is still so wonderful!  He is still my life and I'm his as well, and what a wonderful life we have had together!  I will admit we both have aged but still love each other dearly!  We wish you could come see us to see just how great Charlie is.  It worries me which one will outlive the other; I can't stand the thought of leaving him here alone without me. I will be 83 in August.  He would have a hard time alone, as I would too, but I would be  able to understand it better.
Thank you again for fulfilling my late years so lovingly!  We will just keep on loving each other and God will help both of us.  Thank you again for giving me a happy life!
JoAnn Layman
---
Duffy (now Eggsy)
Adopted 02/25/2018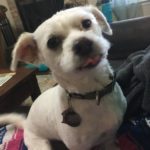 "Don't I look refreshingly handsome with my new haircut?"  Eggsy is the spunkiest hairy mammal in our family – besides our two cats.  He keeps us on our toes!  He jumps high like a crazy dolphin spinning up in the air to greet us each time we come home (that is, if he did not go with us).
He keeps us active as we all play games with toys and running figure 8's in the backyard (mostly him doing the running.  He has also been jogging at the park.  Currently, he is chewing on his nylon bone on the cozy rug and enjoying the air conditioning while listening to the porcelain symphonic playing Christmas tunes…yes, in May!  He is a pleasure and a wonderful addition to our family.
---
Dino
Adopted 04/17/16
Dino is now 5 years old, and he is healthy and happy!  He loves his human mom and snuggles with me all the time.He and Hans love to roughhouse together; then after a few minutes, they lay down butt to butt and take a nap!  If one of them is at the groomer, the other one wanders the house looking for the missing one.They are so funny and a good match.  They are the cutest boys and do get along very well!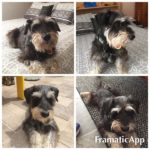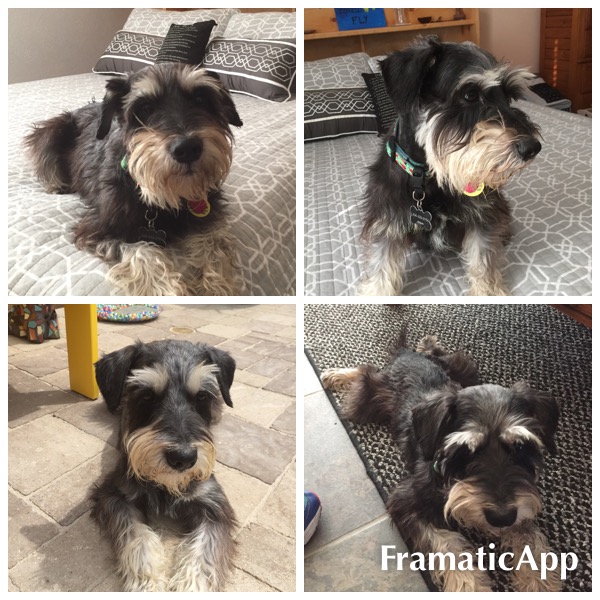 We have a new pattern for nighttime.  After we all eat supper, they start getting anxious.  If it is 6:45 and we have not all gone to the bedroom, something is really wrong!  They guys are so smart.  They can tell time…both of them!  So you might as well get out of the recliner, turn out the lights, and head to the bedroom to watch TV. They are the first ones on the bed, and Dino is right in the middle lying on his fleece blanket.
Dino is also the official greeter at the house.  Even the repairmen who come are greeted.  They pet him, and then he lies down for a nap or watches them, depending on what they are fixing.
We get the biggest kick out of these boys, and they are loved and spoiled so much!  This little guy is happy where he is now, and he knows he is in a good home. Both he and Hans make us very happy, and we get a lot of joy from them!  I am so glad we found MSRNT and Dino.
---
Zeke (now Jamie)
Adopted 07/22/2017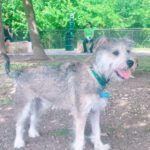 It's Jamie's birthday, and we thought you might like to see how big and awesome he is!  He was a bit shy when we first adopted him, but his huge personality didn't take long to come out!  He very quickly picked out his favorite spots to sleep on the couch, on the bed, and in our laps.
He loves trips to the dog park and meeting new dogs every time!  He's also never shy about telling us when he wants more food in his bowl.  Fetch is one of his favorite activities, and he loves to  chew on the loudest squeaky toys he can find!  He still has his big personality, and we can't wait for lots of years of fun and play.  We love him!
---
Chloe
Adopted 09/26/2009
April,
Thanks to you, Chloe has been the light of our lives for almost 9 years. We sincerely appreciate you allowing us to adopt her. She is losing some sight and hearing, but has never been loved so much.
---
Shadow (and prior adoptee Max)
Adopted 04/11/2018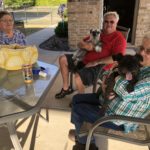 Shadow is really blending in with Maxine and the rest of the family.  She is petting him all the time, and they are doing things together.  He has his routine on eating, his yard duties, as well as sleeping with her.  He also hugs her legs just like her new canine brother, Max, does with his human dad. Maxine is thrilled, and everyone thinks Shadow is wonderful.  He has been to the vet and has also gone to the groomer.
Life is good with Shadow!
---
Dena
Adopted 04/06/2018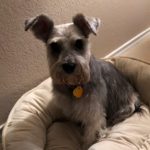 Editor's Note:  Dena is one of MSRNT's ICU dogs.  She had cataract surgery on both eyes and now has a new lease on life!
Dena had a very good first day. I did a trial errand run with her sequestered in my back room with the gate up.  She had a bed in there and her water bowl, and I had the blinds pulled up. She was happy to see me when I got home but did not seem traumatized!  Tomorrow I will only work 3 hours. She's been on several neighborhood walks, and she took a ride and visit to PetSmart and did great! I love her sooo much! I bet you miss her too. She's a great pal!
Pat
---
---
Dodge
Adopted 2013
This Dodge sure is a good dog.  He is still full of energy at 10 1/2 years old.  Thanks for all you do for MSRNT.
---
Mina
Adopted  01/18/2017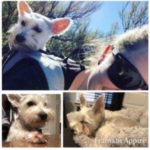 Mina is still doing great in our new home in Austin, and she has adjusted well to having a "big dog cousin" at the house.  She enjoys hanging out with "Mom" as I work from home.  She likes to join us on family game night, and she even hitched a ride while we hiked Big Bend over New Year's.
She was especially sweet this month when I lost my grandfather; she didn't leave my side for days.  She continues to light up our lives every day!
---
Cooper
Adopted 07/18/2010
Cooper joined our family in 2010, and he is the sweetest dog we have ever had. He is getting old like his adopted parents, but he is still a joy. Thank you, MSRNT.
---
Fritz (formerly Gary)
Adopted 01/07/2017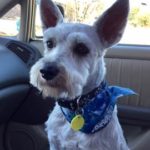 Fritz (formerly Gary) is such a great dawg. It's been a joy (most of the time) watching his personality come out over the past year. So obvious that he's become secure that he's in his forever home with us, you can really feel the love and trust. And we lucked out, this dog has almost no bad habits…not a single mess in the house, doesn't dig, no shedding, no chewing. He's a beggar, a little pushy when he wants attention, and a little barky at times, but that's stuff I don't mind.
I'm so glad we got him!
---
---
Dolly
Adopted 02/09/18
Our angel Dolly's Story:
The ride away from her foster was a sad, quiet ride for Dolly.  I know she felt abandoned (again),  and this made me so sad.  But when we got out of the car and into our home, her disposition changed dramatically.  She met my son and instantly bonded.  We played with her on the floor for what felt like hours.  Then my husband came home, and Dolly retracted into a shy girl again and ducked for cover.  It was only minutes later that very first night, however, that she knew she was home for good.  From that evening on, she has continued to o shine more brightly and play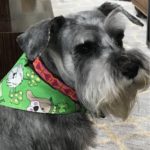 more joyfully every day!
She is a dream pup in every sense.  She is so well behaved and has the best manners.  She sits on command and will even fetch toys to be thrown again and again.  She is more puppy than her age tells.  She wants to play constantly, and she rotates among all three of us.  Dolly has warmed our hearts and allowed us to love a fur baby again.  We waited almost two years after the passing of our beloved greyhound Ladeda, not knowing if we could love like that again, but Dolly has shown our hearts there is a way.  She is truly perfect, and we feel blessed to have her. We are grateful to MRSNT for nudging us along to keep trying until we found Dolly.  We are forever thankful for this sweet girl who came to us from such an amazing group of people.
The Fittz Family
---
Sparkle
Adopted 01/10/2015
Hi, Y'all!  Just sharing a photo of my angel.  Today is the day that we celebrate love.  It is one of my favorite holidays.  Sparkle got into the spirit of the day…OK, she really had no choice!  Hope she brings a smile to your face.
---
Chapi/Charlie
Adopted 01/27/18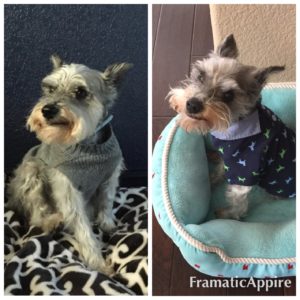 To MSRNT,
I can't begin to even explain how happy it makes us to have Charlie (Chapi) in our lives.  It was very difficult losing our Kody to cancer a while back.  They just give so much to enrich our lives.  Kody just made me fall madly in love with the Mini Schnauzer breed – they are so loving and devoted.   Can't imagine my life without one.  So I just knew I needed to give back. I decided that for as long as I possibly am able, I would love to adopt Senior Mini Schnauzers and give them the love, comfort, and security they deserve for the rest of their time here on earth.
Charlie is our first adoption.  He is 10 years old, had a rough time of it prior to MSRNT finding him and taking him under their wing.  So hard to understand, as he is the sweetest little man ever!  My whole family is so supportive, and everyone is now head over heels for Charlie.  Even our two cats think he's cool.  Sophi even rubs on him like she did Kody – LOL   Thank you MSRNT for all you do!  Love you.
Deborah J. Kirchdorfer
---
 Max/Edward
Adopted 01/21/18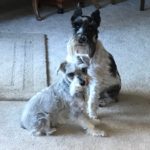 Max has adapted very well to his new home and big brother, Barney. Even though they're about the same age (9-10), Max has made Barney act younger. He loves exploring his new yard and house but also loves to cuddle. He is such a sweet little boy and has made our family complete. My two guys make me smile every day.
---
Marley
Adopted 05/18/2016
We just love our Marley to pieces….he is such a good boy and everyone who meets him just thinks he's so adorable.  My mother-in-law says he "has manners", and I guess he really does.  He is a bundle of joy to us and gives us a lot of pleasure and love.  I wouldn't hesitate for a moment to get another rescue dog from MSRNT. I must admit, I was a little apprehensive about getting a rescue dog, but Marley has been an inspiration.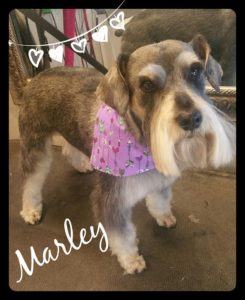 Hope you enjoy his photo….it was his first visit with his new groomer. We found a lady here in Stillwater who has a mobile dog grooming van, and he had his first visit with her last Tuesday….she took the picture of him.  I liked her a lot and obviously Marley did, too, 'cause he nicely walked out to the van with her alone.  She gives the doggies a tearless blueberry facial scrub (la-ti-da….I don't even get those….lol), a bandana, and she bakes doggies muffins for all her fur-baby clients.  WOW….talk about spoiling them…..LOL.
Well, that's about all I know about Marley….he is doing GREAT!!!!!
Brenda & Terry Diel;
---
Freckles (now Daisy)
Adopted 07/17/2016
Daisy is just adorable!  She is the sweetest girl that loves to snuggle, just what I wanted.  She sleeps with me and loves to sit on my lap at night.  She goes to "school" (daycare play day) a couple of times a week so that she can get some exercise and have time with other dogs.
We also go to the dog park or go for long walks when the weather is nice. She loves to go to the lake run around, but she hates getting in the water.  We have even been to the outdoor movies together in Lewisville.
My boyfriend thought I had had her since she was a puppy since we are so bonded!  He calls her "Mini Demona" because we have such similar personalities.  she is just so cute!  Thanks for letting me brag a bit.
---
Eli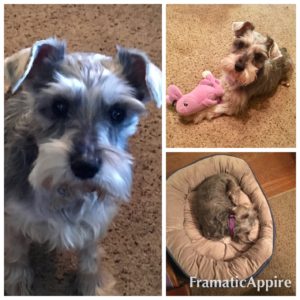 Adopted 01/12/2018
Editor's note:  Eli had cataracts in both eyes when he entered rescue with MSRNT.  Surgery has brought back his vision.
Day 1:  Eli has had a great day exploring with a little help from my other rescue, Mabel.  He has been in and out all day, but he never stays out for too long.  He loves to follow Mabel all around.  I'm in love with my new fur-baby!
Day 2:  Eli seems to have really come around today.  He has a new reason to live…with vision!  He has played with Mabel to the point of them being comical.  He also seems to have a new pep in his step.  We are not sure what made the change, but he is loving it here.  And we are loving him!!
---
---

Marley and Luna
Adopted January 17, 2018
Hi, Carole, Pam, and Melissa,
Luna and Marley have become fast friends!  Although Luna was a little skeptical at first, she quickly warmed up to having Marley as her older brother.  This picture was hard to capture because these two don't like to sit still when there is so much playing to be done!  Their favorite activities are chasing each other around the bark park, wrestling in the living room, and killing all the toys they can get their paws on.  we first adopted Luna from Pam in February, 2016, and didn't think our hearts could get any fuller, but Marley has proven that to be completely untrue!  In the short time we have had him, Marley has cuddled his way into our laps and into our hearts.  Thank you so much for loving on our fur babies before we were able to and for trusting us to be their forever family!  Our lives wouldn't be the same without them.
Taylor and Paul
---
Merlin and Mumford
Adopted 11/25/2017
Mumford is looking like he wants no part of the Christmas sweaters!  We are so grateful to have both of them in our lives!  Both boys are in a routine and are doing very well.  Happy Holidays from Mumford and Merlin.
---
Cosmo
Adopted March 23, 2015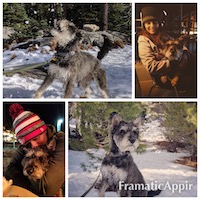 We recently took Cosmo on a trip to Lake Tahoe where we got to see him play in the snow!  He definitely likes to eat the snow, but he does not like to sit in it.   He seems to be an avid fan of snowball fights because he thinks it's a game of fetch! He was an absolutely perfect snuggle bug next to the fire pits.  We love him so much, and we're so glad that he gets to join in all of our adventures!  Slowly but surely, he is becoming a California dog (but we know we can never take the Texas out of the dog!).
Love,
Pari and Achyu
November 27, 2017
---
Desperado
Adopted on February 23, 2013
Desperado is still doing great.He loves the beach life and his golf cart rides.  I can't believe that he has been with us for over 4 years.  As you know, we absolutely LOVE him!
He is my little watchdog.  He lets me know if any dogs are walking by…LOL!  He was also standing guard for using our hotel room when we had to evacuate for Hurricane Harvey.  Desperado loved watching life from his 3rd floor window.
He got some new pajamas for the colder weather.  He loves to wear shirts and pajamas.  He's such a cuddle bug!
November 13, 2017
---
 Buddy (formerly Jett)
Adopted January 24, 2017
Carole,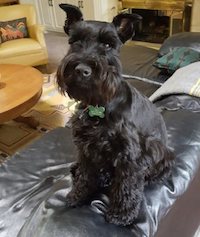 It's hard to describe the absolute joy that Jett, now Buddy, has brought to our lives.  He quickly settled in and is doing well physically and emotionally.  I do not see any lasting effects of his broken femur.  We chase each other and play very vigorously.  I am the one who runs out of steam.
The job that MSRNT and you, in particular, did to give him the treatment he needed to provide him with a good life is just overwhelming.
What a blessing Buddy is to us and I think we are to him.  He is really smart and travels so easily.  Buddy is a special, loving spirit who brings joy to our hearts every day!  Thanks again for all you do!
Cary Cox
November 19, 2017
---
Liza
Adopted October 15, 2012
Our sweet Liza was adopted five years ago form MSRNT. She was one of seven pups born to a 17 pound schnauzer mama. Liza was the runt of the litter and she now weighs 32 pounds. She's our beautiful brindle baby.  She always helps us with our new foster dogs, so we have named her Liza the Liaison.
---
Queenie
Adopted June 30,2017
She tips her nose to the wind,breathes deeply,
shows all the gratitude inside her–
and so,I do the same,
as if to say, I am rescued too.
Cat S. Ginn
September 11, 2017
---
Colt
Adopted: November 6, 2015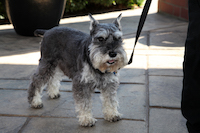 Thank you so much for bringing Colter and me together. He is my best friend. We walk one hour every morning at sunup and about 45 minutes as the sun goes down every day. Everybody that sees him – loves him!
August 29, 2017
---
Dobie 
Adopted: December 9, 2016
Heart of Texas Therapy Dog Phoebe (Great Dane) congratulates Dobie on completing his internship requirement. Dobie will soon join the approximately 200 therapy dogs in the DFW area with Heart of Texas Therapy Dogs.
---
EllieMae #1340 and Max
Adopted July 11, 2015
Ellie and I (Max) are living the good life. Our days are filled with chasing squirrels, birds, and rabbits, or wrestling each other until one of us is worn out. We wake the Greeno household every morning come rain, sleet, snow, and most of all sunshine @ 5:45am. Then Mom and Dad are off to the gym. As soon as they return, we have our morning feast. Then we spend the days making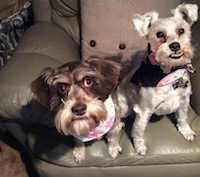 our humans realize how boring their lives would be without two 4-legged fur balls to love! Oh! we can't forget our nap time which allows us to recharge because following our humans around can tire a body out! We have toys in every room, but Mom hasn't learned that it doesn't do any good to put them in our toy box. My sis, Ellie Mae, is worse than I am. She likes to play fetch with them anytime of the day. I, on the other hand, am more selective. I like my ball and my "Bugs Bunny". Ellie and I play tug-a-war with Bugs, and Mom even has me playing fetch.<p>
We love it when Mom is in the kitchen cooking. We give her those sad puppy dog eyes, and believe me it works! She allows us to have blueberries, banana, asparagus, peanut butter, broccoli, and zucchini. I want you all to know we are 2 healthy, happy, and spoiled fur balls. <p>
When Mom's 5 year old niece comes over, she get plenty of kisses and attention from me! I'm pretty selective to whom I warm up to, but Ellie loves everybody! Ellie loves riding in the truck, but I'm a pansy! You can hear me whining from the minute we head out the driveway. Ellie can't figure out why all the big commotion. Mom has me on her lap while softly stroking my head and telling me it's okay. Now when it's time to go home, I'm the perfect traveler! No whining here…just a tail propelled in high gear providing air circulation. As soon as we turn on our street, I start just talking and howling cause I'm so happy to be home.<p>
Mom and I spend time everyday talking to each other. "Are you a good boy?" and that's all it takes for me to carry on a conversation. Ellie just wags her tail to the point that her whole body wiggles. We are truly loved and cared for, and we'll continue being our sweet, lovable selves and enjoying every day with our humans! Woof! Woof!<p>
Tail wags and kisses!
---
MAX 1508
Adopted: November 20, 2016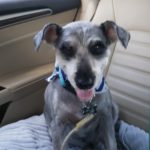 "Hi Mom! My adoptive family is still awesome and thinks I'm amazing! My little girl Lily is autistic and she really loves me, and needs me. She is perfect for me because we both know I am like a shadow. I shadow her all day, every day. She carries me like a baby most days. I get to go everywhere with her. I'm her special needs dog and I couldn't do the job any better! It's as if I was born just for her. I got my summer hairdo today! Man, I look handsome.  Have a great summer. I sure am! Thank you for finding me such a loving family to call home.
❤ Max Morgan
---
Molly 1571
June 2, 2017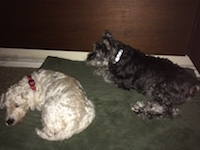 Just thought I'd write and give you a 1-month (or so) update on Molly. She has definitely adjusted to being an indoor dog and an integral part of the family! She is very sweet and loving, and has bonded to both Karen and me. She and Smokey are doing well together too, although she can be a bit rambunctious on our old fellow at times. The attached is a picture of the "kids" sharing the bed under Karen's desk. Smokey had settled in there first, and little sister opted to join him. Typically, during our waking hours, they sleep on their side-by-side beds in the TV room, and Molly has really taken to the smaller, round bed and has claimed it as her own. At night, they are very good about going to their respective crates in the utility room. Molly knows how to "go house" and will run in ahead of Smokey because she knows that a treat awaits. They are both very treat-oriented! She is a great eater and loves Smokey's kibbles, so they are eating the same food and eat their meals contentedly side-by-side also. Molly loves to go to the neighborhood walking trail around the lake and the adjoining dog park. She walks pretty well on her leash, but for some reason wants to walk in the street rather than on the lawns, so we have to keep a tight rein on her. Clearly, we are thoroughly enjoying having Molly in our family, and I think it is a great fit for all concerned. Thanks to you and MSRNT for all the great work that you do to find good homes for the many Schnauzers that come your way!!!
Caron & Karen and Smokey & Molly
July 11, 2017
---
Dexter #1578
Adopted: June 17, 2017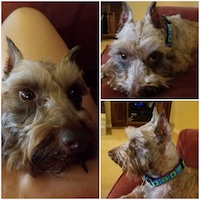 I just wanted to tell you thank you for helping us find the perfect dog for our family. I can't believe anyone would give up little Dexter, but their loss is my family's gain. He is so sweet and loving. He and Oree are fast friends and have played at least two times a day so far. Then they both pass out on the sofa next to each other to rest up for the next adventure. He hasn't learned to play with any toys yet, but we will get him there. He is so good with our son Parker, and he loves me for sure. I can't wait to see how he is in a few weeks and months. Thank you again for all your help!!!
Thank you,
Sara Cederberg
June 26, 2017
---
Konrad, the Hero!
Adopted: May 30, 2015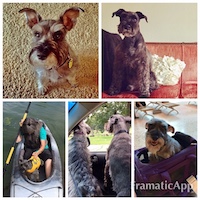 My dad ran to see what it was, and there was a guy who had had a seizure and was bleeding profusely. Dad immediately called 911. The man was bleeding so much that the paramedics thought he wasn't going to make it…but he did…thanks to Konrad. The neighbors have all been asking about Konrad, the rescue dog! My dad is so proud of him for saving a life!
I want you all to know that Konrad saved a man's life last week. My dad took him for a summer vacation, and they hike every day. All of a sudden, Konrad ran up onto the top of a retaining wall while they were hiking, and he froze like he was pointing.
---
Bonzo
Adopted: December 18, 2016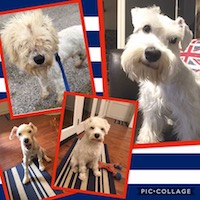 Happy 6 months "GotchaDay," Tucker! Thanks to Miniature Schnauzer Rescue of North Texas and to Kris and Diane, his foster moms, for saving our baby and helping him find his forever home! This skinny street dog has put on a few healthy pounds and gone through a couple of haircuts and a name change, but he had our hearts the second we met him.
---
KOBY
Adopted: January 24, 2016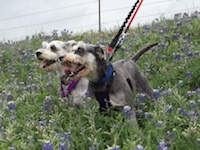 We have bluebonnet pictures of the babies. The shy little Koby is no more. Last year he would go out and check everything out and chase squirrels, but he would come back in to make sure I was still here. This year he chases the squirrels from tree to tree and lies beneath them waiting and watching. Gone are the fears that I won't be there when he gets back in, and instead he is a happy and smiling boy that talks all the time. I can't imagine life without him.
---
LOLA
Adopted May 10, 2017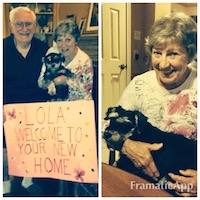 Six or seven years ago; our lives were made more complete when Libby Lou entered our home. She was a beautiful white female schnauzer who filled us with every kind of happiness. Then six years later, we were devastated when Libby Lou developed a malignant tumor in her left lung. We did the humane thing and had her put to sleep to relieve her of any more pain.
For one long year, we mourned and knew there would never be another Libby Lou. Then, a friend told us about the Miniature Schnauzer Rescue of North Texas. When we saw a picture and description of Lola, our hearts skipped a beat. We just had to see her.
When we saw her recently, she ran to us immediately and another pet love affair began. Our time with her in our home has truly been an answer to prayer. She is such a joy; she enjoys taking walks, visiting with neighbor doggies, and getting to know all of her new neighbors. Everyone comments on how pretty and peaceful she is.
Lola is a beautiful black and gray, six year old female schnauzer. She has a wonderful personality…a very loving and caring little girl. She loves to be loved and really loves to be talked to. She enjoys her new doggie bed and has her toys around her bed.
Our lives are again filled with happiness. A pet like Lola can captivate and fulfill our lives, and she has done exactly that. We are so thankful to be able to share our time and love with Lola and our family.
Thank You,
Louis, Lou, and Lola Fragapane
May 21, 2017