About Us
Miniature Schnauzer Rescue of North Texas (MSRNT) is a group of caring volunteers  who  rescue, rehabilitate and secure loving, permanent homes for Miniature Schnauzers in need within the Dallas/Fort Worth metroplex and surrounding areas. Since being established as a nonprofit in 2006, we have rescued more than 1,900 dogs.       
Schnauzers entering rescue with MSRNT may have been strays at a shelter, removed from abusive or neglectful homes, or surrendered to the organization by individual owners whose financial or living situations change and they can no longer care for the animal.
Regardless of their backgrounds, all rescued dogs are fully examined and evaluated by a licensed veterinarian and provided with the necessary medical care or rehabilitation.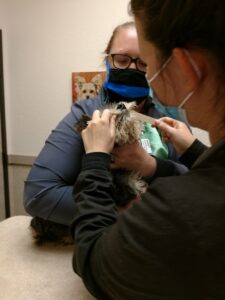 All animals receive veterinarian-prescribed heartworm and flea prevention regimens, as well as rabies, Bordetella, and DHPP vaccinations, and a dental treatment if necessary.  If they are still able to reproduce, they are spayed or neutered before being placed in foster homes.   
While in foster care, dedicated MSRNT volunteers work with each dog, devoting their personal time to learn how the dog behaves in a private home setting.  They socialize the dog, provide some basic obedience training and work on 'house manners' (if needed) for each fostered Schnauzer.  Most importantly, they provide great care and show the dog love and kindness.
The organization does accept dogs in need of medical care.  Adoption fees cover less than one third of what MSRNT spends per dog getting it physically ready for adoption, and must rely upon donations and fundraising events to bridge the gap.  MSRNT has formal 501(c)(3) non-profit status, and adoption fees and all other donations made to the group are tax-deductible for the donor.
For more information about MSRNT, please download our brochure in PDF format. MSRNT_Brochure
We would appreciate your help in building awareness among Schnauzer enthusiasts about Miniature Schnauzer Rescue of North Texas.  Our goal is to promote rescue, and hope that more people will 'opt to adopt' rather than purchasing an animal.  We have Miniature Schnauzers available for adoption to qualified homes, and always need donations and additional volunteers to help—especially foster parents.  Additional funding is critical to our rescue efforts.  We greatly appreciate your support!